BioMapping 9000
BioMapping 9000
---
Highly efficient workflow for rapid three-dimensional imaging
Combining inclined light-sheet illumination and fMOST technology, BioMapping 9000 can image a whole mouse brain in just a few hours. It is compatible with the agarose-embedded samples to greatly simplify the sample preparation process. The data set is generated with little distortion. This makes it easier to register with a standard atlas.
Imaging mode

Inclined illumination-detection volume scanning

Voxel resolution

1.3μm x 1.3μm x 0.92μm

Acceptable wavelengths

Dylight594(585nm),mCherry(587nm),

PI(535nm),GFP(488nm), YFP(510nm)

Maximum sample volume

5cm x 5cm x 2.5cm

Slicing module

Vibratome; 20-200μm thickness

Sample preparation

Agarose embedding

Illumination optics

100mW laser options

Filter group: GFP/PI dual channel

0.3NA water objective 10X magnification

Detection module

Hamamatsu sCMOS Camera

0.5NA water objective 20X magnification

3D High precision motion

3D precision motion system:

Travel range: 210mm@X,100mm@Y,30mm@Z

Minimum incremental motion: 0.001μm@X,Y 0.1μm@Z

Bi-directional repeatability: ±0.04μm@X,Y ±0.07μm@Z

Hardware control system

CPU 5222 3.8/3.9GHz dual-core processor

128GB DDR4 2666MHz RDIMM ECC

NVIDIA T1000

Image processing workstation

5222 3.8/3.9GHz dual-core processor

128GB or 512GB 2400MHz DDR4

NVIDIA T2000

Data storage

12x8TB RAID5 disk array,

Cache read and write speed:1GB/s

Software package

3D data visualization and analysis software

System operation software

Imaging preprocessing software
fMOST technology

High-throughput acqusition

Rapid sample preparation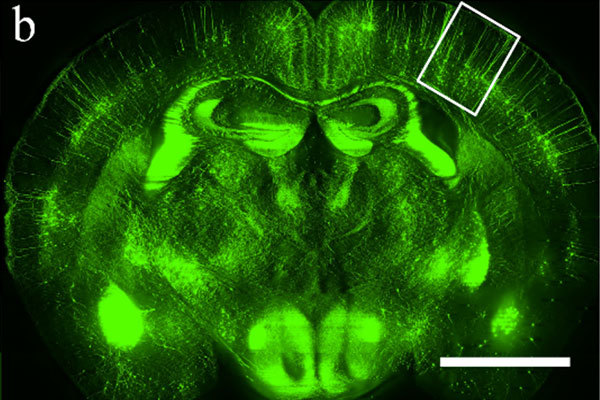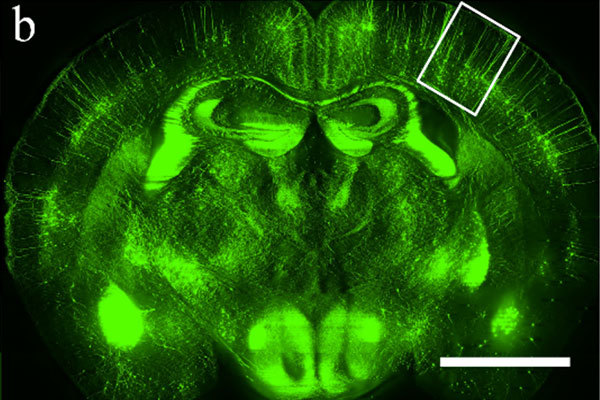 Case Study
We developed a micro-optical sectioning tomography (MOST) system that can provide micrometer-scale tomography of a centimeter-sized whole mouse brain.
Reference:
Yang X, Zhang Q, Huang F, et al. High-throughput light sheet tomography platform for automated fast imaging of whole mouse brain. J Biophotonics. 2018;11(9):e201800047. doi:10.1002/jbio.201800047
Imaging mode

Inclined illumination-detection volume scanning

Voxel resolution

1.3μm x 1.3μm x 0.92μm

Acceptable wavelengths

Dylight594(585nm),mCherry(587nm),

PI(535nm),GFP(488nm), YFP(510nm)

Maximum sample volume

5cm x 5cm x 2.5cm

Slicing module

Vibratome; 20-200μm thickness

Sample preparation

Agarose embedding

Illumination optics

100mW laser options

Filter group: GFP/PI dual channel

0.3NA water objective 10X magnification

Detection module

Hamamatsu sCMOS Camera

0.5NA water objective 20X magnification

3D High precision motion

3D precision motion system:

Travel range: 210mm@X,100mm@Y,30mm@Z

Minimum incremental motion: 0.001μm@X,Y 0.1μm@Z

Bi-directional repeatability: ±0.04μm@X,Y ±0.07μm@Z

Hardware control system

CPU 5222 3.8/3.9GHz dual-core processor

128GB DDR4 2666MHz RDIMM ECC

NVIDIA T1000

Image processing workstation

5222 3.8/3.9GHz dual-core processor

128GB or 512GB 2400MHz DDR4

NVIDIA T2000

Data storage

12x8TB RAID5 disk array,

Cache read and write speed:1GB/s

Software package

3D data visualization and analysis software

System operation software

Imaging preprocessing software
fMOST technology

High-throughput acqusition

Rapid sample preparation