BioMapping 9500
BioMapping 9500
---
Your complete versatile imaging system for extensive applications
BioMapping 9500 provides a one-stop platform for different imaging requirements . A dual sectioning mode enables fast imaging. You're able to acquire high-resolution, precise morphological details or rough signal distribution. All sectioned brain slices can be collected automatically for further observation with immunohistochemistry or in situ hybridization.
Imaging mode

Fluorescent high-speed linear scanning

Voxel resolution

0.35μm x 0.35μm x 1μm

Acceptable wavelengths

Dylight594(585nm),mCherry(587nm),

PI(535nm),GFP(488nm), YFP(510nm);

DAPI available in triple channel

Maximum sample volume

5cm x 5cm x 3cm

Slicing module

Diamond knife; 1-4μm thickness

Vibratome; 20-200μm thickness

Sample preparation

Resin or embedding for diamond knife sectioning

Agarose embedding for vibratome sectioning

Illumination

100mW laser options

Filter group(GFP/PI dual channel or

DAPI/GFP/PI triple channel )

Objective lens

0.8NA water objective 40X magnification

or 0.5NA water objective 20X magnification

Detection module

2 (up to 3) DALSA TDI-CCD cameras

Slice-collection system

Collecting tank with multiwell plates

3-axis robot arm

3D High precision motion

3D precision motion system:

Travel range: 210mm@X,100mm@Y,30mm@Z

Minimum incremental motion: 0.001μm@X,Y 0.1μm@Z

Bi-directional repeatability: ±0.04μm@X,Y ±0.07μm@Z

Hardware control system

CPU 5222 3.8/3.9GHz dual-core processor

128GB DDR4 2666MHz RDIMM ECC

NVIDIA T1000

Image processing workstation

5222 3.8/3.9GHz dual-core processor

128GB or 512GB 2400MHz DDR4

NVIDIA T2000

Data storage

12x8TB RAID5 disk array,

Cache read and write speed:1GB/s

Software package

3D data visualization and analysis software

System operation software

Imaging preprocessing software
fMOST technology

Multi-functional platform

Automatic slice recycle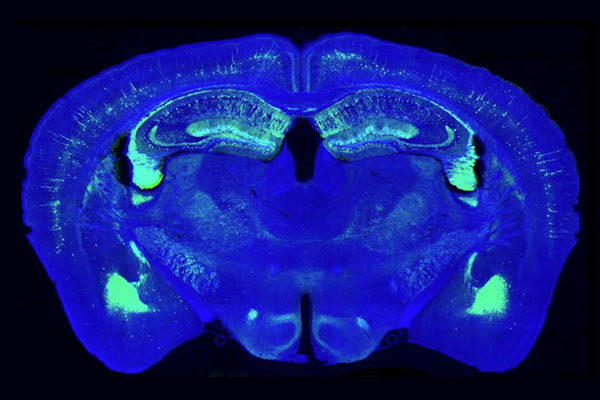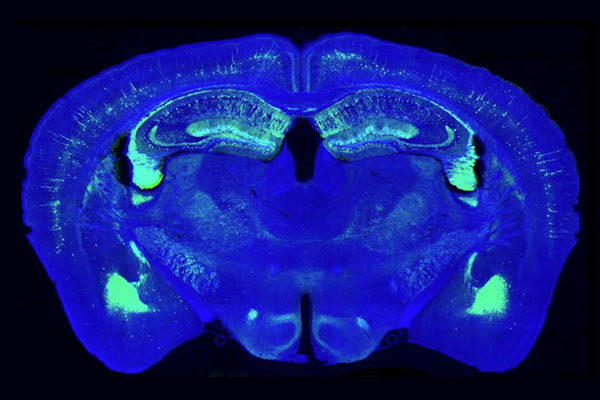 Case Study
We developed a micro-optical sectioning tomography (MOST) system that can provide micrometer-scale tomography of a centimeter-sized whole mouse brain.
Reference:
Zhong, Q., Li, A., Jin, R. et al. High-definition imaging using line-illumination modulation microscopy. Nat Methods 18, 309–315 (2021). https://doi.org/10.1038/s41592-021-01074-x
Imaging mode

Fluorescent high-speed linear scanning

Voxel resolution

0.35μm x 0.35μm x 1μm

Acceptable wavelengths

Dylight594(585nm),mCherry(587nm),

PI(535nm),GFP(488nm), YFP(510nm);

DAPI available in triple channel

Maximum sample volume

5cm x 5cm x 3cm

Slicing module

Diamond knife; 1-4μm thickness

Vibratome; 20-200μm thickness

Sample preparation

Resin or embedding for diamond knife sectioning

Agarose embedding for vibratome sectioning

Illumination

100mW laser options

Filter group(GFP/PI dual channel or

DAPI/GFP/PI triple channel )

Objective lens

0.8NA water objective 40X magnification

or 0.5NA water objective 20X magnification

Detection module

2 (up to 3) DALSA TDI-CCD cameras

Slice-collection system

Collecting tank with multiwell plates

3-axis robot arm

3D High precision motion

3D precision motion system:

Travel range: 210mm@X,100mm@Y,30mm@Z

Minimum incremental motion: 0.001μm@X,Y 0.1μm@Z

Bi-directional repeatability: ±0.04μm@X,Y ±0.07μm@Z

Hardware control system

CPU 5222 3.8/3.9GHz dual-core processor

128GB DDR4 2666MHz RDIMM ECC

NVIDIA T1000

Image processing workstation

5222 3.8/3.9GHz dual-core processor

128GB or 512GB 2400MHz DDR4

NVIDIA T2000

Data storage

12x8TB RAID5 disk array,

Cache read and write speed:1GB/s

Software package

3D data visualization and analysis software

System operation software

Imaging preprocessing software
fMOST technology

Multi-functional platform

Automatic slice recycle