BioMapping 5000
BioMapping 5000
---
The essential brain-wide positioning system for dissecting neural structures
BioMapping 5000 is a single cell resolved fluorescent three-dimensional imaging instrument based on fMOST technology. It can detect multiple fluorescent labeled samples simultaneously through multiple channels, accurately locate the neural circuit, and construct the fine structure of single cells in the whole brain.
Imaging mode

Fluorescent high-speed linear scanning

Voxel resolution

0.35μm x 0.35μm x 1μm

Acceptable wavelengths

Dylight594(585nm),mCherry(587nm),PI(535nm),

GFP(488nm), YFP(510nm); DAPI available in triple channel

Maximum sample volume

5cm x 5cm x 3cm

Slicing module

Diamond knife; 1-4μm thickness

Sample preparation

Resin embedding

Illumination

100mW laser options Filter group

(GFP/PI dual channel or DAPI/GFP/PI triple channel )

Objective lens

0.8NA water objective 40X magnification

or 0.5NA water objective 20X magnification

or 1.0NA water objective 60X magnification

Detection module

2 (up to 3) DALSA TDI-CCD cameras

3D High precision motion

3D precision motion system:

Travel range: 210mm@X,100mm@Y,30mm@Z

Minimum incremental motion: 0.001μm@X,Y 0.1μm@Z

Bi-directional repeatability: ±0.04μm@X,Y ±0.07μm@Z

Hardware control system

CPU 5222 3.8/3.9GHz dual-core processor

128GB DDR4 2666MHz RDIMM ECC

NVIDIA T1000

Image processing workstation

5222 3.8/3.9GHz dual-core processor

128GB or 512GB 2400MHz DDR4

NVIDIA T2000

Data storage

12x8TB RAID5 disk array,

Cache read and write speed:1GB/s

Software package

3D data visualization and analysis software

System operation software

Imaging preprocessing software
fMOST technology

Precise positioning

Multi-channel imaging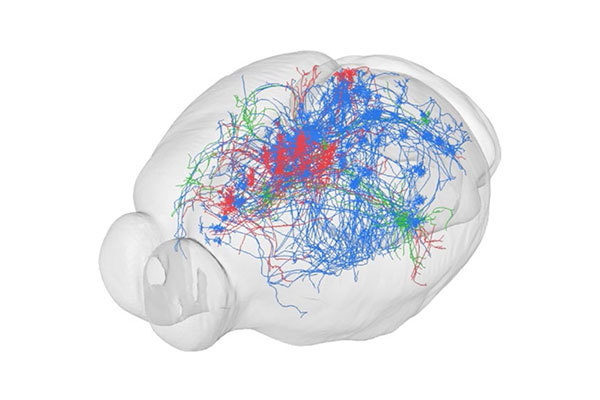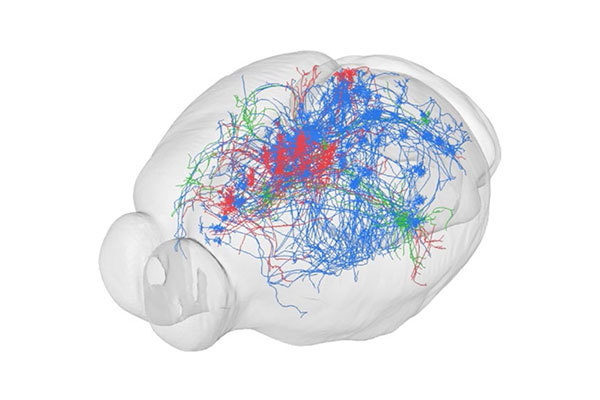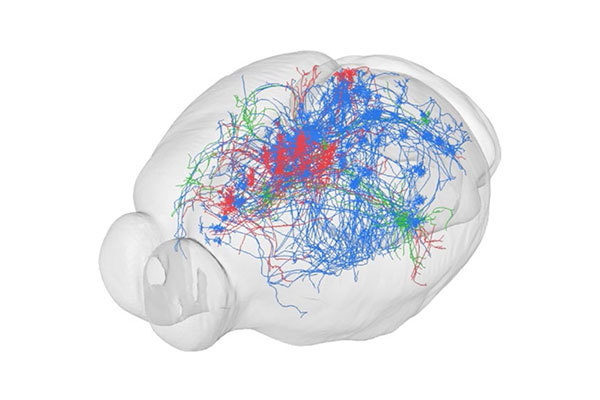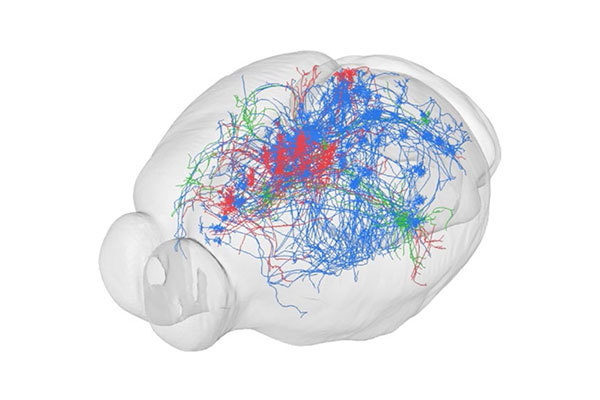 Whole-brain imaging of rat neuronal morphology with Golgi staining
(A) A sagittal image of a 200 µm thickness projection from a whole-brain imaging dataset acquired by MOST method . Arrowheads in different colors in (A) indicate individual neurons. (B) Pyramidal neuron in somato motor cortex (green in (A)); (C) Pyramidal neuron in anterior olfactory nucleus of olfactory bulb (blue); (D) Interneuron in glomerular layer of olfactory bulb (orange); Purkinje cell in cerebellum (brown).
Reference:
Yuan J, Gong H, Li A, Li X, Chen S, Zeng S, Luo Q. Visible rodent brain-wide networks at single-neuron resolution. Front Neuroanat. (2015);9:70. (Review)
Imaging mode

Fluorescent high-speed linear scanning

Voxel resolution

0.35μm x 0.35μm x 1μm

Acceptable wavelengths

Dylight594(585nm),mCherry(587nm),PI(535nm),

GFP(488nm), YFP(510nm); DAPI available in triple channel

Maximum sample volume

5cm x 5cm x 3cm

Slicing module

Diamond knife; 1-4μm thickness

Sample preparation

Resin embedding

Illumination

100mW laser options Filter group

(GFP/PI dual channel or DAPI/GFP/PI triple channel )

Objective lens

0.8NA water objective 40X magnification

or 0.5NA water objective 20X magnification

or 1.0NA water objective 60X magnification

Detection module

2 (up to 3) DALSA TDI-CCD cameras

3D High precision motion

3D precision motion system:

Travel range: 210mm@X,100mm@Y,30mm@Z

Minimum incremental motion: 0.001μm@X,Y 0.1μm@Z

Bi-directional repeatability: ±0.04μm@X,Y ±0.07μm@Z

Hardware control system

CPU 5222 3.8/3.9GHz dual-core processor

128GB DDR4 2666MHz RDIMM ECC

NVIDIA T1000

Image processing workstation

5222 3.8/3.9GHz dual-core processor

128GB or 512GB 2400MHz DDR4

NVIDIA T2000

Data storage

12x8TB RAID5 disk array,

Cache read and write speed:1GB/s

Software package

3D data visualization and analysis software

System operation software

Imaging preprocessing software
fMOST technology

Precise positioning

Multi-channel imaging